American Idol: Memphis Blahhhging
I preface this with the fact that I wasn't as entertained with American Idol auditions this week. Why would I feel like that? It's simple - not enough freaks. I sure hope New York's auditions are a bit more, er, freaky. I DEMAND entertainment!

The "no" club was rather large again this week, of course. I will say, though, that they had artful use of sign language this week. …and it wasn't the peace sign or "I love you."
Cheerleader Frank (also known as "Frank 'n Beans"): This guy brought his cheering squad with him. And the band. And the judges dismissed him. And Simon dismissed the cheering squad. And the band.
Timika: What was she singing? Huh? To quote her "Hmmm." I still don't know what the hell she was singing.
Christopher: All I know is that he sang "Superstitious." I'm superstitious that he actually knew the words since I didn't understand what the HELL he was singing.
Alexis: I couldn't get past the earrings that sounded like windchimes. She should have taken them out the same time she got rid of her gum. I was wondering if she was going to start stripping when she started taking off her jacket. Oh, and did I mention she couldn't sing?
Wow….no wonder the judges get grumpy. What a bad morning for them!
Sundance Head: No, that really is his name. REALLY. And he sang some righteous blues. I think if he goes far he should change his last name. Sundance Head. Yikes!
Wandera: I wonder(uh), who did your dye job? And your fit was almost as good as a two-year-old. Almost.
Travis, aka Emotional Man: Admittedly, I had high expectations that he might actually sing a ballad that would make me feel his, er, emotion. I should know better. I can't tell, honestly, if this man was trying to channel Tourette's or if he was stuttering while singing. To quote Simon "Bye, bye, bye."
Danielle: She sang Aretha and Paula said "you're an old soul." Not all the judges were convinced, so it'll be interesting to see what happens. She didn't stand out for me the way others did.
Topher, aka Paula's-Greatest-Fan-Until-She-Said-No: Topher's singing of "Footlose" went over like (loosing quoting Simon) a guy who was singing karaoke at a wedding, had too much to drink and fell off the stage. Topher's claim to fame? He got to call his cheating ex-wife a bitch on national television. At least he got something out of his AI experience!
Janita: She sang "Disco Inferno." That should be end of story, save for the cleavage issues she had. To quote Simon "Um, you are a handful." [following by much laughter]. I thought it was humorous that she said the judges would find her somewhat conservative but sexy. Just call her Miss Doesn't-Have-A-Clue.
Belinda Doolittle: Wow, what a voice. But she's a professional backup singer. Isn't it like a pro playing in college football? She did rock, though.
Robert Lee Holmes: This guy was hilarous, even though he didn't mean to be. He said he's a dancer, a singer and a story writer. When asked what kind of stories he writes he plainly stated "The Story of Robert." Robert, seems as though you have to write the end of *this* chapter of your story. His Elvis sounded more like Bucwheat.
The New Daddy: He sang "My Girl" in honor of his three daughters. He missed out on the birth of his new baby to be at AI auditions (and boy was she cute). He made it to Hollywood - I wonder if the judges said "yes" just so his wife wouldn't kill him. Heh.
I saved my favorite for last:
Sean (Shawn?): This man explained that his appearance has been described as similar to Castro, Jesus, Osama and, well, a homeless guy. I can't disagree with him. Neither could the judges, who were silenced by the guy's fabulous voice. Where the hell did that voice come from, Fidel? Simon's observation was classic "I thought you were going to sing something about a revolution."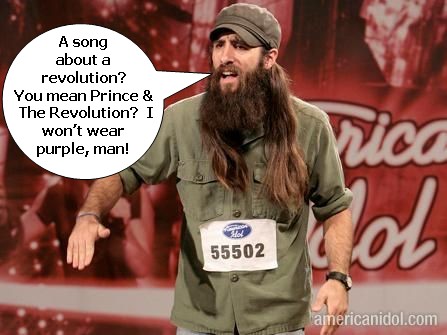 My AI Blogging Buddy Beth shares in my apathy about tonight's auditions. Go encourage her to live blog tomorrow - NEW YORK, BABEEEEEEEE!
WordPress database error: [Expression #3 of SELECT list is not in GROUP BY clause and contains nonaggregated column 'merri_wrdp1.wp_comments.comment_type' which is not functionally dependent on columns in GROUP BY clause; this is incompatible with sql_mode=only_full_group_by]
SELECT comment_author, comment_author_url, comment_type, MAX(comment_ID) as comment_ID, SUBSTRING_INDEX(comment_content,'strong',2) as trackback_title, SUBSTRING_INDEX(comment_author,' » ',1) as pingback_blog, SUBSTRING_INDEX(comment_author,' » ',-1) as pingback_title FROM wp_comments WHERE (comment_post_ID='665' AND comment_approved = '1') AND (comment_type = 'trackback' OR comment_type = 'pingback') GROUP BY comment_author, comment_author_url ORDER BY comment_ID DESC LIMIT 50