Nooseweek: Un-American. AGAIN!
Riding Sun has an enlightening post on yet further disgraceful "works" of Newsweek. I encourage you to go read his article, but here is just a taste:
Newsweek's false, retracted story about American guards flushing the Koran down a toilet at Guantanamo doesn't necessarily mean the magazine's staff hates America or Bush, or wants us to lose in Iraq. To be charitable, let's just chalk that one up to sloppy journalism.

But I'm at a loss to explain this, from the February 2 issue of Newsweek's Japanese edition: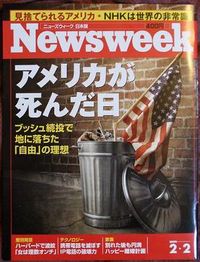 As you can see, the cover story shows an American flag, dirtied and tossed in a trash can, its staff snapped in two. The large white text reads, "Amerika ga shinda hi", which translates to "The day America died."
I encourage you to read the whole article - this isn't the only disgraceful Anti-American rhetoric Newsweek has to offer. But I'm sure you're not surprised.
WordPress database error: [Expression #3 of SELECT list is not in GROUP BY clause and contains nonaggregated column 'merri_wrdp1.wp_comments.comment_type' which is not functionally dependent on columns in GROUP BY clause; this is incompatible with sql_mode=only_full_group_by]
SELECT comment_author, comment_author_url, comment_type, MAX(comment_ID) as comment_ID, SUBSTRING_INDEX(comment_content,'strong',2) as trackback_title, SUBSTRING_INDEX(comment_author,' » ',1) as pingback_blog, SUBSTRING_INDEX(comment_author,' » ',-1) as pingback_title FROM wp_comments WHERE (comment_post_ID='159' AND comment_approved = '1') AND (comment_type = 'trackback' OR comment_type = 'pingback') GROUP BY comment_author, comment_author_url ORDER BY comment_ID DESC LIMIT 50