Speedos are Back!
The AP reports that Speedos are now legal again for men in Cape May, NJ. For more than 30 years, this resort area in New Jersey said a resounding NO! to men wearing the skimpy little suits.
Not that everyone's cheering. It's often the older guys - the ones with beer guts, or wrinkly skin, or unsightly tufts of hair - who wear the tiny swimsuits.
Oh, you mean like this guy?

"The people you want to see in the Speedos, you don't," said Maggie Creighton, 19, who works in a downtown lingerie store.
I think young Maggie was hoping to see this guy there: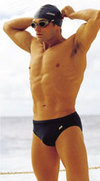 Sorry, Maggie. Ain't gonna happen! That's the stuff of Speedo catalogs, I'm afraid!
"A lot of people do come in and say 'Do you carry Speedos?' said Becky Fitzgerald, sales clerk at Della's General Store. "It's the 40- to 50-year-old group who ask. And it's funny, their bodies aren't the shape for Speedos."
Whodathunkit?
Crossposted at The Wideawakes
WordPress database error: [Expression #3 of SELECT list is not in GROUP BY clause and contains nonaggregated column 'merri_wrdp1.wp_comments.comment_type' which is not functionally dependent on columns in GROUP BY clause; this is incompatible with sql_mode=only_full_group_by]
SELECT comment_author, comment_author_url, comment_type, MAX(comment_ID) as comment_ID, SUBSTRING_INDEX(comment_content,'strong',2) as trackback_title, SUBSTRING_INDEX(comment_author,' » ',1) as pingback_blog, SUBSTRING_INDEX(comment_author,' » ',-1) as pingback_title FROM wp_comments WHERE (comment_post_ID='125' AND comment_approved = '1') AND (comment_type = 'trackback' OR comment_type = 'pingback') GROUP BY comment_author, comment_author_url ORDER BY comment_ID DESC LIMIT 50