Two Little Girls Lost
Anyone who reads my blog knows how I feel about crimes against children, in particular murder. As Beth and Jody say, why? Beth also talks about how difficult, border-lining impossible it is to blog about such a tragedy. I personally feel compelled to blog about these innocent lives lost. Even though I have but a little spec on the web, I feel like I need to play my part to keep this story in the public eye as much as I can so the evil soul(s) who did this will be caught and so their story isn't buried under the Michael Jackson trial or baseball season.
These are INNOCENT HUMAN LIVES lost at the hand of a sadistic, psychotic, evil, disgusting pig of a human being. Did this vile creature actually rationalize making the decision to slaughter these mere babies?
ZION, Ill. — Police on Monday said they had few leads in the murders of two northern Illinois second-graders found dead from multiple stab wounds.

The bodies of Laura Hobbs, 8, and Krystal Tobias, 9, were discovered Monday morning by an area resident on a stroll in a heavily wooded area at 6:03 a.m. CDT. The girls, who attended the same elementary school and were described as best friends, had not been heard from since going out to ride their bicycles together Sunday afternoon.

"This is a heinous crime. It was a crime not only against those kids but against all of us," Police Chief Doug Malcolm said.
Look at these beautiful, innocent faces. These girls each had a full life ahead of them…lives filled with boys, prom, borrowing the car, marriage, children. How could anyone, no matter how down and out, no matter how bad their day was…how could they make a conscious decision to end their lives???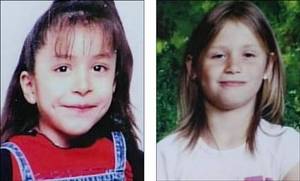 The parents of one of the girls had reported her missing about 8:50 p.m. Sunday, about two hours after she was expected home, Malcolm said. The parents of the other girl called shortly afterward, and authorities with rescue dogs began searching.

Malcolm said no weapons were found and there was no evidence of sexual assault. A girl's bicycle was found nearby. He said police had not identified any suspects and that there were "no solid leads that we're focusing on."

The killings stunned this town about 45 miles north of Chicago, prompting police and school officials to escort children directly onto buses at the end of the school day. Dozens of anxious parents waited until their children emerged from the front doors of the school, then put their arms around their kids or clutched their hands as they walked to their cars.

Fifteen-year-old Albert Tobias said he didn't know why someone would want to attack his sister. "But I would like to know what happened," he said in a brief telephone interview.

Constance Collins, superintendent of the Zion Elementary School District 6, said the girls were in the same second-grade class at Beulah Park Elementary School.

"They were best friends," said Laura Unrein, who lives near the park. "When one left, the other left. They were always together."
They are still together - in Heaven. And they feel no more fear or pain. I pray for the families and the friends of Laura and Krystal - I hope they find the strength to make it through this tragic and heart-wrenching time. I also pray that they find the evil, sadistic, vile, disgusting pigs that did this to Laura and Krystal. I want them to be found, tried, convicted and fried. In one quick and evil moment, they decided to take the lives of these innocent girls and they do not deserve to breathe another breath of life themselves.
WordPress database error: [Expression #3 of SELECT list is not in GROUP BY clause and contains nonaggregated column 'merri_wrdp1.wp_comments.comment_type' which is not functionally dependent on columns in GROUP BY clause; this is incompatible with sql_mode=only_full_group_by]
SELECT comment_author, comment_author_url, comment_type, MAX(comment_ID) as comment_ID, SUBSTRING_INDEX(comment_content,'strong',2) as trackback_title, SUBSTRING_INDEX(comment_author,' » ',1) as pingback_blog, SUBSTRING_INDEX(comment_author,' » ',-1) as pingback_title FROM wp_comments WHERE (comment_post_ID='134' AND comment_approved = '1') AND (comment_type = 'trackback' OR comment_type = 'pingback') GROUP BY comment_author, comment_author_url ORDER BY comment_ID DESC LIMIT 50