Beth's Blogiversary
Beth of My Vast Right Wing Conspiracy is celebrating a full year of blogging today! Beth's blog was one of the first ones I ever read, other than, of course, the one owned by my most significant other. Beth has become a close friend of ours and we appreciate all that she does to make the blogworld a better place! Oh, and we really like that she swears…all the fuckin' time!
Of course, Beth has no opinions, and she never will tell you what to do. Most importantly she enjoys all asshats, moonbats and liberals…
…only so she can kick their asses to the curb!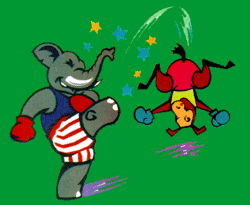 Please stop over at Beth's house and wish her the best Blogiversary ever!
WordPress database error: [Expression #3 of SELECT list is not in GROUP BY clause and contains nonaggregated column 'merri_wrdp1.wp_comments.comment_type' which is not functionally dependent on columns in GROUP BY clause; this is incompatible with sql_mode=only_full_group_by]
SELECT comment_author, comment_author_url, comment_type, MAX(comment_ID) as comment_ID, SUBSTRING_INDEX(comment_content,'strong',2) as trackback_title, SUBSTRING_INDEX(comment_author,' » ',1) as pingback_blog, SUBSTRING_INDEX(comment_author,' » ',-1) as pingback_title FROM wp_comments WHERE (comment_post_ID='142' AND comment_approved = '1') AND (comment_type = 'trackback' OR comment_type = 'pingback') GROUP BY comment_author, comment_author_url ORDER BY comment_ID DESC LIMIT 50