Rachael Ray Wedding Picture & Other Rachael Ray News
I have looked and looked and looked for a wedding photo of Rachael Ray and John Cusimano (they were married 9/24/05 and their ceremony was in Italy). It took me awhile, and it isn't the best picture, but here it is: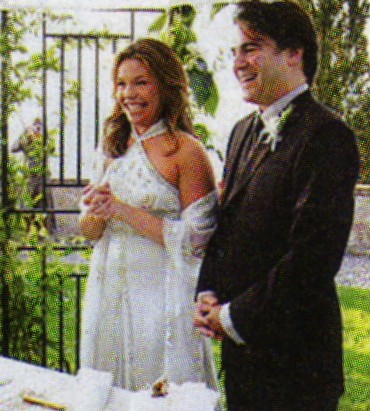 I hope you enjoy this tiny glimpse into their happiness!
Other Rachael Ray news…
Rachael Ray is going to have a talk show! What does she have to say?
"People know me for my love of food, but I have so much more I want to
share," said Rachael Ray. "Our show's going to be all about taking a bigger
bite out of life. I want people to see themselves in this show, because life
is full of messes and successes, and getting there is half the fun."
…and what does Oprah have to say?
"From the moment I had Rachael on my show earlier this year, I knew she
had 'it,'" said Oprah Winfrey. "She has that connection with her audience
that most people only achieve one-on-one."
Pretty exciting for a person who just did her thing and never expected to be "famous," huh?!?
In even *more* Rachael Ray news, her new magazine, "Every Day with Rachael Ray" launches October 15, 2005. She has her website up, too. You should go check it out here. There's supposed to be even more recipes and stories at this site. You can also subscribe to her magazine there (yes, I know this because I subscribed…sheesh!).
That's it for now, although you can hardly call it just "it." Rachael Ray has hit it lucky again - a new marriage, a trip to Italy (green with envy, I am!), a new show with "Tasty Travels," yet *another* new show in her talk show scheduled for Fall 2006 AND her new magazine. Whew! I hope John can keep up!
WordPress database error: [Expression #3 of SELECT list is not in GROUP BY clause and contains nonaggregated column 'merri_wrdp1.wp_comments.comment_type' which is not functionally dependent on columns in GROUP BY clause; this is incompatible with sql_mode=only_full_group_by]
SELECT comment_author, comment_author_url, comment_type, MAX(comment_ID) as comment_ID, SUBSTRING_INDEX(comment_content,'strong',2) as trackback_title, SUBSTRING_INDEX(comment_author,' » ',1) as pingback_blog, SUBSTRING_INDEX(comment_author,' » ',-1) as pingback_title FROM wp_comments WHERE (comment_post_ID='330' AND comment_approved = '1') AND (comment_type = 'trackback' OR comment_type = 'pingback') GROUP BY comment_author, comment_author_url ORDER BY comment_ID DESC LIMIT 50