Scum-Sucking Pedophile
Take a close look at Richard Merritt, Jr., scum-sucking asswad: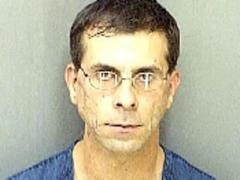 This man was arrested in Lincoln, Nebraska after a period of weeks in which he repeatedly attempted to entice young children into his car by using cash. There were at least 10 different reports on his efforts. Thank God he was arrested, because when police caught up with him, he had a 10-year-old boy in his car. Imagine the relief the parents must feel.
While police followed leads, the big break came when Lincoln police Chief Tom Casady overheard a captain talking about the case.

"I recognized that was the same M.O. Richard Merritt had been doing previously," Casady said.
The disgusting part of this is that Merritt served a sentence in 2003 for a series of exposure incidents - egregious enough that the police chief remembered the case. You know how much time this miscreant served? A whopping 90 days. And here we are, just 2 years later, arresting the bastard for trying to get kids in his car to fulfill his sick fantasies.
Parents were worried this guy would get off with yet another slap on the wrist as enticement is a misdemeanor in Nebraska (WTF???). Luckily, they were able to charge him with attempted sexual assault of a child, which is a felony (his bond was set at $500,000). Would you want this sick bastard parked out front of your child's school?
In court on Wednesday, prosecutors said Merritt told investigators he fantasized about getting a child in his car and acting out his sexual fantasies, which included hearing the victim scream.
Given the number of ridiculously light sentences and the minimal amount of time served in some of these types of cases, I admit I'm a bit cynical about how this will turn out.
Kim Jungek said her son was walking with two other kids after school on Sept. 1 down an alley when a man approached and offered cash to get them in his car. She said she's upset now that she didn't call police.

"A number of other parents didn't call police, and maybe if we would've put those pieces together, maybe he wouldn't have had so many opportunities," Jungek said.

She said she's glad Merritt faces a felony charge.

"I don't want him out in my neighborhood or any other neighborhood. Misdemeanors would not keep him behind bars," she said.
Let's just cross our fingers and hope that a felony conviction WILL, Ms. Jungek.
WordPress database error: [Expression #3 of SELECT list is not in GROUP BY clause and contains nonaggregated column 'merri_wrdp1.wp_comments.comment_type' which is not functionally dependent on columns in GROUP BY clause; this is incompatible with sql_mode=only_full_group_by]
SELECT comment_author, comment_author_url, comment_type, MAX(comment_ID) as comment_ID, SUBSTRING_INDEX(comment_content,'strong',2) as trackback_title, SUBSTRING_INDEX(comment_author,' » ',1) as pingback_blog, SUBSTRING_INDEX(comment_author,' » ',-1) as pingback_title FROM wp_comments WHERE (comment_post_ID='328' AND comment_approved = '1') AND (comment_type = 'trackback' OR comment_type = 'pingback') GROUP BY comment_author, comment_author_url ORDER BY comment_ID DESC LIMIT 50