Let Your Son Be a Hero
Casey Sheehan, a soldier, was killed in Sadr City, Iraq, on April 4, 2004 fighting for his country. His mother, Cindy Sheehan, is staging a protest in Crawford, TX and plans to continue protesting until she can speak to President Bush personally. Her reasons? She wants to ask President Bush: "Why did you kill my son? What did my son die for?" She wants troops home because, in her opinion, the troops were sent into a war for no reason - there were no WMD or chemical weapons, so she feels her son died needlessly.
I can't pretend to understand Ms. Sheehan's grief as I have never lost a child, but looking at this from a distance, I'm saddened that Ms. Sheehan can't allow her son to be remembered as a proud defender of freedom. It is because of his efforts, alongside other soldiers, who have allowed a country of people held hostage under a brutal regime feel less fear. Their efforts have allowed children to attend school and learn what the world is all about - some, particularly girls, had never been to school at all. Their efforts have allowed the Iraqi people to wake up each day knowing that a family member won't be brutally captured and murdered, for no good reason other than someone's whim or desire to bring dispair.
Ms. Sheehan, your son wouldn't have joined the military if he didn't feel as though he had a reason to serve his country, and he served her proud. You may think that he died needlessly and without cause, but there are many Americans - including myself - who admire your son for his courage and his willingness to step up for the cause to defend our freedom and to acquire freedom from tyranny for so many others. His mark on history has changed lives forever. Please let him be a hero - because he is one.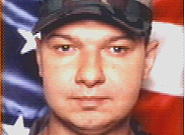 WordPress database error: [Expression #3 of SELECT list is not in GROUP BY clause and contains nonaggregated column 'merri_wrdp1.wp_comments.comment_type' which is not functionally dependent on columns in GROUP BY clause; this is incompatible with sql_mode=only_full_group_by]
SELECT comment_author, comment_author_url, comment_type, MAX(comment_ID) as comment_ID, SUBSTRING_INDEX(comment_content,'strong',2) as trackback_title, SUBSTRING_INDEX(comment_author,' » ',1) as pingback_blog, SUBSTRING_INDEX(comment_author,' » ',-1) as pingback_title FROM wp_comments WHERE (comment_post_ID='274' AND comment_approved = '1') AND (comment_type = 'trackback' OR comment_type = 'pingback') GROUP BY comment_author, comment_author_url ORDER BY comment_ID DESC LIMIT 50