Ah…So It Begins…Being a Husker is SWEET!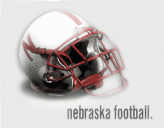 So, today is the season opener for my beloved Nebraska Cornhusker Football Team!
Found this nice little gem over at Hubby's site. It got my Husker Red blood a-pumpin'!
Jerseys? Check.
Face Tattoos? Check.
Corncobhead Hats? Check.
Pompom shakers? Check.
Munchies for the game? Check.
Sanity at the door? Check.
GO BIG RED!!!!!!!!!!
WordPress database error: [Expression #3 of SELECT list is not in GROUP BY clause and contains nonaggregated column 'merri_wrdp1.wp_comments.comment_type' which is not functionally dependent on columns in GROUP BY clause; this is incompatible with sql_mode=only_full_group_by]
SELECT comment_author, comment_author_url, comment_type, MAX(comment_ID) as comment_ID, SUBSTRING_INDEX(comment_content,'strong',2) as trackback_title, SUBSTRING_INDEX(comment_author,' » ',1) as pingback_blog, SUBSTRING_INDEX(comment_author,' » ',-1) as pingback_title FROM wp_comments WHERE (comment_post_ID='583' AND comment_approved = '1') AND (comment_type = 'trackback' OR comment_type = 'pingback') GROUP BY comment_author, comment_author_url ORDER BY comment_ID DESC LIMIT 50