WTW - Parts is Parts?
Okay, ya'll. Here is a real White Trash Candidate. This here guy dun decided that he wanted to practice his cutting technique on body parts - parts not his own, mind you. I reckon he done thought no one would never know since they was just parts. Here's the story: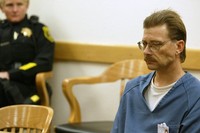 WOODLAND, Calif. (AP) - A morgue assistant accused of stealing body parts from a medical school so he could practice dissections at home was sentenced to more than two years in prison.

David Lawrence Beale, 47, was arrested in 2003 after more than 150 pounds of decomposing body parts, including two heads, were found near his Davis home. He pleaded no contest Monday to stealing human remains from the medical center at the University of California at Davis and possessing methamphetamine.

"This is a crime involving a great deal of callousness," said Superior Court Judge Michael Sweet.

Police initially suspected homicide when a tip led them to human remains in the trash at a trailer park where Beale once lived. Lawyers for Scott Peterson traveled to the area to search for evidence that Peterson's wife, Laci, had been killed by a cult.

Beale allegedly told investigators he had been taking remains home for more than a decade. The parts were from cadavers donated to the medical center for research.
There just ain't something right about a man takin' body parts home. How do you plan for somethin' like that?
Be sure to check out my cuzins on the WTW blogroll on the right side of this page!
WordPress database error: [Expression #3 of SELECT list is not in GROUP BY clause and contains nonaggregated column 'merri_wrdp1.wp_comments.comment_type' which is not functionally dependent on columns in GROUP BY clause; this is incompatible with sql_mode=only_full_group_by]
SELECT comment_author, comment_author_url, comment_type, MAX(comment_ID) as comment_ID, SUBSTRING_INDEX(comment_content,'strong',2) as trackback_title, SUBSTRING_INDEX(comment_author,' » ',1) as pingback_blog, SUBSTRING_INDEX(comment_author,' » ',-1) as pingback_title FROM wp_comments WHERE (comment_post_ID='109' AND comment_approved = '1') AND (comment_type = 'trackback' OR comment_type = 'pingback') GROUP BY comment_author, comment_author_url ORDER BY comment_ID DESC LIMIT 50