We're Havin' a Ball!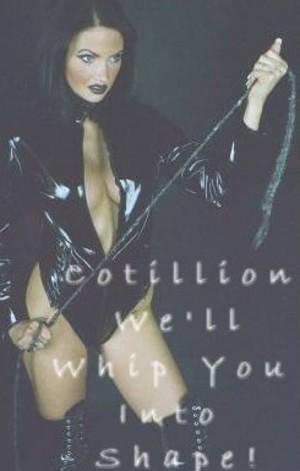 It's party time again! Please go visit us over at the Cotillion - and bring your dancin' shoes! Er, seems as that's too, well, nice.
As Beth might say: Report at once to the mistresses (for your whippings?):
Crystal Clear
A Mom and Her Blog
Fistful of Fortnights
And don't forget to stop over at the Cotillion website. We have many new debutantes who have joined us - the party is even more exciting!
Update: Beth…better? I'm no chicken, dammit!
WordPress database error: [Expression #3 of SELECT list is not in GROUP BY clause and contains nonaggregated column 'merri_wrdp1.wp_comments.comment_type' which is not functionally dependent on columns in GROUP BY clause; this is incompatible with sql_mode=only_full_group_by]
SELECT comment_author, comment_author_url, comment_type, MAX(comment_ID) as comment_ID, SUBSTRING_INDEX(comment_content,'strong',2) as trackback_title, SUBSTRING_INDEX(comment_author,' » ',1) as pingback_blog, SUBSTRING_INDEX(comment_author,' » ',-1) as pingback_title FROM wp_comments WHERE (comment_post_ID='214' AND comment_approved = '1') AND (comment_type = 'trackback' OR comment_type = 'pingback') GROUP BY comment_author, comment_author_url ORDER BY comment_ID DESC LIMIT 50