Welcome to this Little Corner of the Web!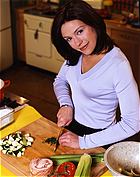 I want to take a moment and welcome you to Rachael Ray Redux. Why, do you ask, would I choose this name for my blog? Well, if you ask anyone that knows me, I seem to have quite a bit of Rachael influence in my life.
I bought the knife (yes, I am the proud owner of a Wustof Santoko knife with a double hollow edge and Grand Prix handle). Thanks to Alton Brown (yes, another Food Network celebrity that I love), I had to buy the Wustof steel. The newest addition to the family is yet another Wustof - bread knife.
I have a garbage bowl, although not a Texasware like Rachael [insert a sigh here].
I cut my veggies like her (she taught me a lot!).
I have several of her cookbooks (not counting the multiple Food Network recipe printouts that litter my kitchen).
My hubby even saw her microwave on the internet, although it was discontinued [insert yet another sigh here].
Alright, so this ain't the Rachael Ray House of Worship, but I thought I could share some ideas, recipes and other things. Many from Rachael, but some of my own, or from other Food Network faves.
WordPress database error: [Expression #3 of SELECT list is not in GROUP BY clause and contains nonaggregated column 'merri_wrdp1.wp_comments.comment_type' which is not functionally dependent on columns in GROUP BY clause; this is incompatible with sql_mode=only_full_group_by]
SELECT comment_author, comment_author_url, comment_type, MAX(comment_ID) as comment_ID, SUBSTRING_INDEX(comment_content,'strong',2) as trackback_title, SUBSTRING_INDEX(comment_author,' » ',1) as pingback_blog, SUBSTRING_INDEX(comment_author,' » ',-1) as pingback_title FROM wp_comments WHERE (comment_post_ID='10' AND comment_approved = '1') AND (comment_type = 'trackback' OR comment_type = 'pingback') GROUP BY comment_author, comment_author_url ORDER BY comment_ID DESC LIMIT 50