TV Guide Gave Me My Jack Bauer Fix!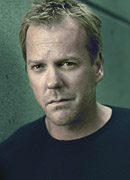 I was at the grocery store today and in the checkout I saw it. Out of the corner of my eye I saw that piercing gaze gracing the cover of TV Guide Magazine. Could it be? Yes….there he was. Jack. Jack Bauer. I've missed you, Jack!
I snatched that magazine up and took it home. They had me hook, line and sinker when they stated on the cover: "PLUS a sneak peek at Day 6." I've been waiting MONTHS for any kind of inkling of what happens in Day 6. $1.99 for a sneak peek? Dinero WELL spent!
So….I bet you are wondering, aren't you? What is this sneak peek all about? Well, they don't give us much, but enough for complete droolage. I just love what Kiefer Sutherland says about playing Jack Bauer:
Kiefer Sutherland can't pinpoint the exact moment Jack Bauer became a living, breathing creature, but he thinks it happened sometime around Day 4.

"Before that, people would come up and say, 'I love this movie you did' or 'I love your work,' but suddenly I was getting, 'I love Jack Bauer,'" he says during an interview in Hollywood.

Dressed in expensive-looking jeans and a white T-shirt, Sutherland looks happier and better rested than the counterterrorism agent he plays on 24, but then again, who doesn't? It probably helps that his show, coming off its most successful ratings season yet, is up for 12 Emmys, the most nominations for any TV series. Sutherland landed his fifth straight nomination for lead actor in a drama, a feat he insists he's only partly responsible for. "Sometimes it's like I have nothing to do with Jack Bauer anymore," he says with a most un-Bauerlike grin. "It's almost like I've become a conduit or his brother or something."
I can see that. I looked back at all my Bauer posts, and the words "Kiefer Sutherland" rarely came up. I'm sorry, Kiefer. I've now used your name at least 5 times in this post. I hope you'll forgive me!

Of course the electronic version of this article in TV Guide Magazine doesn't give you the down low on Day 6, so it looks like I'll have to give you a summary (all quotes from the article):
"We'll start with Jack next season at the lowest point anybody's ever seen him," Sutherland says, explaining that Day 6 opens two months into his Chinese incarceration.

:::snip:::

While other seasons gradually bring the terror to light, the new season (which kicks off in January) begins "in the midst of America being terrorized," Cassar [the director of 24] says, likening the explosive opening to the early hours after 9/11. "Something horrible has already happened, so we start in a mood of national paranoia and fear and go from there," he says.

Jack has been in Chinese custody for two months and has been tortured physically and mentally. "He's not the same Jack we've seen before, " Cassar says. "He's beaten down, a weakened shell." A la Jack's Season 3 return from drug abuse, Season 6 will track Jack's comeback.
Drooling yet? Thought so. But I would add that buying the magazine would be really, really good. The interview with Kiefer is good (you do know the show is nominated for 12 Emmys, right?), but even better, there are some great, dreamy pics of him for those of you who, ahem, are into that kinda thing.
January's way too far away, dammit! But I believe Day 5 will be on DVD this fall (I remember hearing October somewhere). It may be time for a pre-season "refresher!"
WordPress database error: [Expression #3 of SELECT list is not in GROUP BY clause and contains nonaggregated column 'merri_wrdp1.wp_comments.comment_type' which is not functionally dependent on columns in GROUP BY clause; this is incompatible with sql_mode=only_full_group_by]
SELECT comment_author, comment_author_url, comment_type, MAX(comment_ID) as comment_ID, SUBSTRING_INDEX(comment_content,'strong',2) as trackback_title, SUBSTRING_INDEX(comment_author,' » ',1) as pingback_blog, SUBSTRING_INDEX(comment_author,' » ',-1) as pingback_title FROM wp_comments WHERE (comment_post_ID='571' AND comment_approved = '1') AND (comment_type = 'trackback' OR comment_type = 'pingback') GROUP BY comment_author, comment_author_url ORDER BY comment_ID DESC LIMIT 50