They Usually Try and Escape!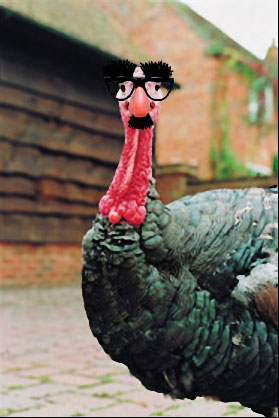 This turkey was a rebel…he wanted to join Thanksgiving dinner!
BLOOMINGTON, Minn. — Thanksgiving turkeys usually get carried in through the front door. But this one came crashing through the dining room window.

On Thursday, Sandy Cobbs she was in her kitchen in Bloomington, Minnesota, preparing sweet potatoes and vegetables when she heard a thunderous crash.

Her husband tried to shoo the bird back outside, but it bounced off more windows and tried to hide in a big pot of orchids. Police finally herded it onto the deck.
The crazy thing is that this had happened to the family once before, on Christmas Day in 2004. That break-in cost them more than $10K. Wonder if the turkeys were in the same gang or somethin'?

WordPress database error: [Expression #3 of SELECT list is not in GROUP BY clause and contains nonaggregated column 'merri_wrdp1.wp_comments.comment_type' which is not functionally dependent on columns in GROUP BY clause; this is incompatible with sql_mode=only_full_group_by]
SELECT comment_author, comment_author_url, comment_type, MAX(comment_ID) as comment_ID, SUBSTRING_INDEX(comment_content,'strong',2) as trackback_title, SUBSTRING_INDEX(comment_author,' » ',1) as pingback_blog, SUBSTRING_INDEX(comment_author,' » ',-1) as pingback_title FROM wp_comments WHERE (comment_post_ID='638' AND comment_approved = '1') AND (comment_type = 'trackback' OR comment_type = 'pingback') GROUP BY comment_author, comment_author_url ORDER BY comment_ID DESC LIMIT 50