That Chicken is INNOCENT, I Say!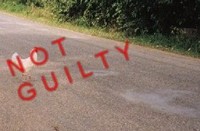 As a follow-up to my previous post regarding the chicken who got a ticket for crossing the road:
RIDGECREST, Calif. — A chicken that got a ticket for crossing the road has clawed his way out of it.

The $54 citation for impeding traffic was dismissed Friday after Linc and Helena Moore's attorney argued that the fowl was domesticated and could not be charged as livestock.

State law restricts livestock on highways, but not domestic animals.

The chicken was ticketed March 26 for impeding traffic after it wandered onto a road in Johannesburg, a rural mining community southeast of Ridgecrest.

The Moores said they got the ticket because they were among several people who complained that deputies have done little to curb noisy off-road vehicle riders.

"For the last two and a half years, no one has been able to stop the kids riding their bikes in the middle of the road or the neighbors' dogs running around our neighborhood," Linc Moore said. "But when our chicken escaped and crossed the road once it became a huge issue."

Sheriff's officials said the ticket had nothing to do with the Moores' complaints.
There were no updates regarding the indecency charges. Heh.
WordPress database error: [Expression #3 of SELECT list is not in GROUP BY clause and contains nonaggregated column 'merri_wrdp1.wp_comments.comment_type' which is not functionally dependent on columns in GROUP BY clause; this is incompatible with sql_mode=only_full_group_by]
SELECT comment_author, comment_author_url, comment_type, MAX(comment_ID) as comment_ID, SUBSTRING_INDEX(comment_content,'strong',2) as trackback_title, SUBSTRING_INDEX(comment_author,' » ',1) as pingback_blog, SUBSTRING_INDEX(comment_author,' » ',-1) as pingback_title FROM wp_comments WHERE (comment_post_ID='171' AND comment_approved = '1') AND (comment_type = 'trackback' OR comment_type = 'pingback') GROUP BY comment_author, comment_author_url ORDER BY comment_ID DESC LIMIT 50