Rachael Ray Musings
I haven't posted much on Rachael Ray as of late…not that I don't want to, but mostly because I haven't had much time to spend on my little blog.
The first piece of news isn't new for any Rachael Ray fan. Last week, Rachael was on Iron Chef America, paired with Mario Batali, while competing with Giada De Laurentiis and Bobby Flay. It was clear when watching the show that Bobby Flay had better things to do (he maybe spoke 2-3 words and seemed rather put off by the whole thing). Rachael Ray and Mario Batali seemed to enjoy what they were doing - Mario even made some drinks for the judges using the food they were battling with…cranberries! Of course Rachael couldn't be on a show without the famous "carry" she always does on her own shows: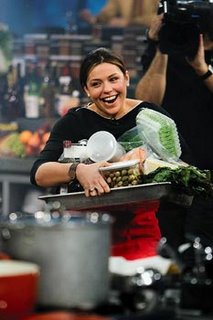 So who won? Which reigned supreme?!? I honestly expected Bobby and Giada to win (Bobby is a regular winner on teh show and Giada is touted as a "chef" compared to Rachael's self-proclaimed "cooker." Well, surprise…Rachael and Mario won! …and the snooty look from Giada when it was announced was a classic moment.
I also have to say I've been faithfully watching her talk show on DVR every day…I've really grown to like it! I LOVE one of her features every week (Mystery Taster)! This week, Dennis Leary was on the show - he was hilarious! Granted, it is usually very mindless entertainment, but it isn't the crap you see on other talk shows (pregnant teens, drama, murder, paternity tests). She also brings people together to solve every day issues (she paired a woman who had to buy Thanksigiving dinner to serve 20+ with a lady who is a coupon guru, saving her quite a bit of money). It makes it seem "real" to me. Her ratings seem to be fabulous - she's beaten some Martha Stewart ratings as well as Ellen (at least one time I've heard). Keep it up, Rachael!
Lastly…I got a new toy (I LOVE new Rachael Ray stuff!). I got one of her new cast iron pots (the 5.25 quart one). I grew up on food in my mom's cast-iron pot so it was a bit of a walk down memory lane for me. Here it is: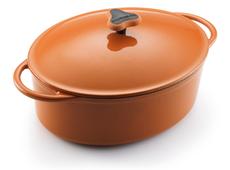 I can't wait to use it - It's perfect for stews, pot roasts, soups and stoups. YUM-o!
WordPress database error: [Expression #3 of SELECT list is not in GROUP BY clause and contains nonaggregated column 'merri_wrdp1.wp_comments.comment_type' which is not functionally dependent on columns in GROUP BY clause; this is incompatible with sql_mode=only_full_group_by]
SELECT comment_author, comment_author_url, comment_type, MAX(comment_ID) as comment_ID, SUBSTRING_INDEX(comment_content,'strong',2) as trackback_title, SUBSTRING_INDEX(comment_author,' » ',1) as pingback_blog, SUBSTRING_INDEX(comment_author,' » ',-1) as pingback_title FROM wp_comments WHERE (comment_post_ID='636' AND comment_approved = '1') AND (comment_type = 'trackback' OR comment_type = 'pingback') GROUP BY comment_author, comment_author_url ORDER BY comment_ID DESC LIMIT 50