News to Crawl Out from Under My Rock For!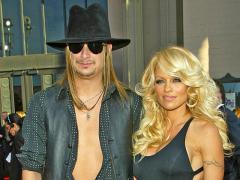 Aren't you shocked?
Baywatch beauty and "Borat" love interest Pamela Anderson has filed for divorce from Kid Rock.
Pam wrote this shocking announcement on her website:
11/27/2006
Divorce

Yes, it's true.
Unfortunately impossible.
Poor Pam and Kid. These were the tales being told after one of their three weddings:
Soon after her wedding, Anderson wrote, "I've never read or heard so much misinformation on this whole wedding fiasco…..We're super happy newlyweds. That's all I can say……we have a lot of love for our family and extended families."
Er….well…..about 4 months of love, right?
WordPress database error: [Expression #3 of SELECT list is not in GROUP BY clause and contains nonaggregated column 'merri_wrdp1.wp_comments.comment_type' which is not functionally dependent on columns in GROUP BY clause; this is incompatible with sql_mode=only_full_group_by]
SELECT comment_author, comment_author_url, comment_type, MAX(comment_ID) as comment_ID, SUBSTRING_INDEX(comment_content,'strong',2) as trackback_title, SUBSTRING_INDEX(comment_author,' » ',1) as pingback_blog, SUBSTRING_INDEX(comment_author,' » ',-1) as pingback_title FROM wp_comments WHERE (comment_post_ID='639' AND comment_approved = '1') AND (comment_type = 'trackback' OR comment_type = 'pingback') GROUP BY comment_author, comment_author_url ORDER BY comment_ID DESC LIMIT 50