King of Cotillion - Finalists!
Time to start the final round of voting for… King of Cotillion (also known as "Cotillion Beefcake")
We have the top four candidates in the final round, ready for objectification! Some of the photos will have changed at their request, as you will see, but you can still ogle check out the pictures from last week HERE. Let the objectification begin!
First, we have MacStansbury, Beth's co-writer here at MVRWC and proprietor of the excellent MacStansbury.org blog. MacS hates this picture because he was exhausted and "covered with sand," but I like that he was showing his USM pride in the middle of a live combat area: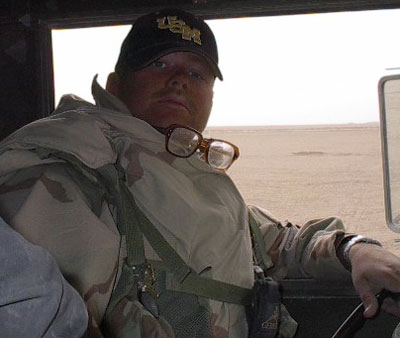 Next up, and also dashing in his desert camo, is Thunder6 from 365 and a Wakeup, beamed in from the front lines in Iraq where he is now.

B.C. didn't dig up his photos with him in his flight suit from his days in uniform, but he provided a more current photo, this one showing him enjoying the good life–beer-drinking on a boat–and looking not so torturous away from the Imperial Dungeonâ"¢ at the Anti-Idiotarian Rottweiler: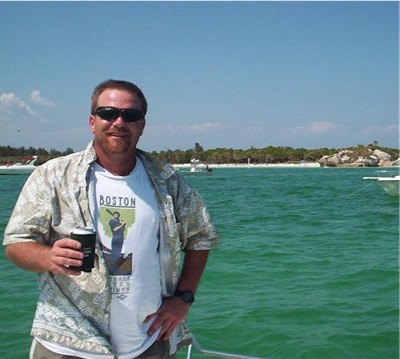 Also in a sunny paradise is Bullwinkle from Random Numbers. Bullwinkle may be a big ol' moose, but he likes little furry animals other than just squirrels. Here he's feeding a baby coati mundi that he rescued, now just a couple weeks old.
---
There you go, y'all! The Final Four! Now go on over to their sites, poke around, and most importantly, VOTE (in the sidebar)! You can only vote for ONE this time, but you can still vote every day. Voting will close on SUNDAY NIGHT again, around midnight (Central time), and the winner will be announced and crowned King of Cotillion / Cotillion Beefcake? on TUESDAY. Thank you from all of us in Cotillion to all the guys who participated last week–we consider all of you our Princes for participating and for supporting us!
WordPress database error: [Expression #3 of SELECT list is not in GROUP BY clause and contains nonaggregated column 'merri_wrdp1.wp_comments.comment_type' which is not functionally dependent on columns in GROUP BY clause; this is incompatible with sql_mode=only_full_group_by]
SELECT comment_author, comment_author_url, comment_type, MAX(comment_ID) as comment_ID, SUBSTRING_INDEX(comment_content,'strong',2) as trackback_title, SUBSTRING_INDEX(comment_author,' » ',1) as pingback_blog, SUBSTRING_INDEX(comment_author,' » ',-1) as pingback_title FROM wp_comments WHERE (comment_post_ID='336' AND comment_approved = '1') AND (comment_type = 'trackback' OR comment_type = 'pingback') GROUP BY comment_author, comment_author_url ORDER BY comment_ID DESC LIMIT 50