Johnny Gosch - Why Would Someone Do This?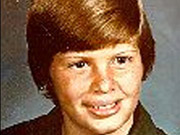 Back in 1982, Johnny Gosch's picture was one of the first to appear on milk cartons as a missing child. West Des Moines was where he was abducted, while carrying papers. It hit home as I, too, was carrying newspapers around that time. It was a big story here in the Midwest as another paper carrier, Danny Joe Eberle was abducted in 1983 out of Bellevue, Nebraska…just a few miles from my hometown. The difference between the two cases? They found 13-year-old Danny's body, arrested, tried and convicted serial murderer John Joubert. They've never found Johnny and they have never arrested anyone in connection to his disappearance. Undoubtedly, both families have suffered a terrible loss, but I cannot imagine how difficult it would be to not know where your son is, and to know he had been abducted.
Twenty-four years later, photos that appeared to look like Johnny were put on the doorstep of his family.
The photos were left Sunday at the front door of Noreen Gosch, the mother of Johnny Gosch, who disappeared on Sept. 5, 1982, while delivering newspapers in West Des Moines.

Lt. Jeff Miller, a spokesman for the West Des Moines Police Department, said the photos were given to the Iowa Division of Criminal Investigation's computer crime task force.

Miller said police have not positively identified the boy in the photographs as Johnny Gosch. He also said it was not immediately known when the photos were taken.

"That's one of the reasons we're going to the DCI and let the experts take a look at them," Miller said.

Noreen Gosch found the photos Sunday and said she gave them to police on Tuesday. It wasn't clear why Gosch didn't immediately give the photos to police.

While police said they have not positively identified the boy in the photo as Johnny Gosch, Noreen Gosch said it is her son.

She said one photo shows her son with his mouth gagged, his hands and feet bound, and he is wearing the same sweat pants he wore when he disappeared. She said the other photo shows him with two other unidentified boys, also bound and gagged.
Today, an investigator from Florida - Nelson Zalva - said that he's pretty certain the photos are too old to be that of Johnny and that he thought the photo was one he reviewed in a different case prior to 1982. You can see the photos at the Johnny Gosch Foundation's website here.
However, Noreen Gosch told the Register that Zalva has yet to provide evidence the photos are not of her son, who vanished before dawn while readying for his paper route a couple blocks from the Gosch home in West Des Moines.

"One of the photos is definitely Johnny," she said. "I'm glad police are investigating, so we can find out who the other two kids are."

Florida authorities sifted through scores of records Wednesday, hunting for the police report and photos connected to the case that Zalva said he investigated. In the meantime, Iowa authorities said they were also tracing other connections to the photos.
So at this point, it's unclear whether these photos are those of Johnny - I'm sure there will be more to come in this unusual case. Interestingly, Noreen Gosch also had previously reported that Johnny had contacted her briefly in 1997, but said he wouldn't give any details about where he was as he felt he needed to hide his identity. The most compelling question for me surrounds why someone would leave a mother photos of her missing son from 24 years ago. If they truly are pictures of her son, what was the purpose of someone leaving the pictures? If it was the abductor, I find it particularly cruel, especially if Johnny is no longer living. If these photos are not pictures of Johnny, but someone with a similar appearance, why would someone leave them? Is it some kind of cruel joke?
Either way, we may still never know who abducted Johnny Gosch or if he is still alive. It brings back those memories of fear when I was out in the early morning darkness delivering papers. My hope is if these are, indeed, photos related to Johnny's disappearance they will lead to solving this case. One minute is too long for a family to be missing their son. Twenty-four years is a lifetime.
WordPress database error: [Expression #3 of SELECT list is not in GROUP BY clause and contains nonaggregated column 'merri_wrdp1.wp_comments.comment_type' which is not functionally dependent on columns in GROUP BY clause; this is incompatible with sql_mode=only_full_group_by]
SELECT comment_author, comment_author_url, comment_type, MAX(comment_ID) as comment_ID, SUBSTRING_INDEX(comment_content,'strong',2) as trackback_title, SUBSTRING_INDEX(comment_author,' » ',1) as pingback_blog, SUBSTRING_INDEX(comment_author,' » ',-1) as pingback_title FROM wp_comments WHERE (comment_post_ID='590' AND comment_approved = '1') AND (comment_type = 'trackback' OR comment_type = 'pingback') GROUP BY comment_author, comment_author_url ORDER BY comment_ID DESC LIMIT 50