Hee Haw!
I grew up in a household full of country music, and shows like "The Osmonds" and "Solid Gold." One show I clearly remember gracing the television regularly was "Hee Haw."
Washington - Buck Owens, who popularized country music in the United States with a string of 1960s hits and a long-running television show, died Saturday, associates said. He was 76.

Owens' family said he died in his sleep at his home in Bakersfield, California, according to the website of a concert hall and restaurant he owned. The cause of death was not immediately known.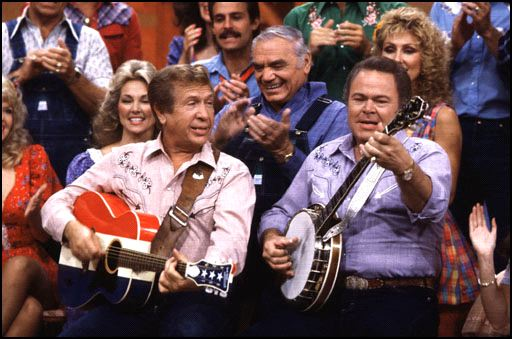 Now, with shows like Hee Haw, one gains useless, non-disposing information. Like these lyrics from a Hee Haw song:
Where, oh where are you tonight?
Why did you leave me here all alone?
I searched the world over and I thought I found true love…
But you met another and PHPPPHT you were gone.
G'night, Buck!
WordPress database error: [Expression #3 of SELECT list is not in GROUP BY clause and contains nonaggregated column 'merri_wrdp1.wp_comments.comment_type' which is not functionally dependent on columns in GROUP BY clause; this is incompatible with sql_mode=only_full_group_by]
SELECT comment_author, comment_author_url, comment_type, MAX(comment_ID) as comment_ID, SUBSTRING_INDEX(comment_content,'strong',2) as trackback_title, SUBSTRING_INDEX(comment_author,' » ',1) as pingback_blog, SUBSTRING_INDEX(comment_author,' » ',-1) as pingback_title FROM wp_comments WHERE (comment_post_ID='451' AND comment_approved = '1') AND (comment_type = 'trackback' OR comment_type = 'pingback') GROUP BY comment_author, comment_author_url ORDER BY comment_ID DESC LIMIT 50