Can We All "Coexist?"
My dear readers - I need your input. I saw a bumper sticker on the way home from work and I want your opinions….would you put one of these on your bumper? Why do you feel that way?
This is the one I actually saw: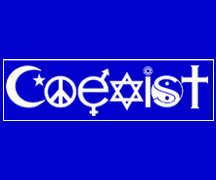 The symbols on this one are the Muslim Crescent/Star, Peace Sign, Man & Woman, the Jewish Star of David, Baha'i Star, Taoist Yin Yang and a cross representing Christianity.
Then I found this one on the 'nets at "Stamp and Shout" (I won't link, but it's pretty easy to get there if you want to look):

Slightly different symbols: Islam crescent/star ; pentagram for Wicca; relativity formula standing for science; star of David for Judaism; the Karma Wheel on the 'i' representing Buddhism; Tao symbol; and the cross for Chrisitianity.
Talk amongst yourselves….topic…."Coexist!"
WordPress database error: [Expression #3 of SELECT list is not in GROUP BY clause and contains nonaggregated column 'merri_wrdp1.wp_comments.comment_type' which is not functionally dependent on columns in GROUP BY clause; this is incompatible with sql_mode=only_full_group_by]
SELECT comment_author, comment_author_url, comment_type, MAX(comment_ID) as comment_ID, SUBSTRING_INDEX(comment_content,'strong',2) as trackback_title, SUBSTRING_INDEX(comment_author,' » ',1) as pingback_blog, SUBSTRING_INDEX(comment_author,' » ',-1) as pingback_title FROM wp_comments WHERE (comment_post_ID='708' AND comment_approved = '1') AND (comment_type = 'trackback' OR comment_type = 'pingback') GROUP BY comment_author, comment_author_url ORDER BY comment_ID DESC LIMIT 50