Burn in Hell, Ivan Henk
My hubby, Eric, over at Vince Aut Morire has an update regarding the Brendan Gonzales case. For those of you not familiar with the case, Brendan's "Dad" - Ivan Henk - killed the four year old boy, stating his son was the Anti-Christ. He dumped his body in a dumpster at least 10 miles from the boy's hometown and Brendan's body ended up in a landfill. After six weeks of volunteers and rescue crews searching endlessly in the heat of summer, Brendan's body was never found.
One of our local television channels in Omaha, NE did a story on the video of Henk's interrogation - released recently - during which he used Brandon's body as a bargaining chip, or at least as a means of having some level of perceived control. I won't steal Eric's thunder, because he has been a champion of Brendan's cause over at his site, but one snippet of this interview, a statement from this vile, disgusting pig stood out for me - in fact I almost lost it when I saw it on TV:
"Stupid body. Who cares? I don't give a s— about it. You do, other people do, maybe, OK. Not me.
Text on a post cannot possibly do this justice. To hear the venom and the hatred in this man's voice is indescribable. This is the body of your own child, your flesh and blood four year old beautiful boy, you SICK, PERVERTED, DISGUSTING, VILE MURDERER. How could a parent do this to their own child and then just throw him away like the weekly trash?!?!?
The guy plead guilty and got life in prison, the bastard. He's attempted to take his own life - if it were me watching him in prison that day, I'd have turned the other way and hoped that he was successful. Pretty awful thoughts to have, but this man is not human and will NEVER be released, NEVER be rehabilitated. Why does society have to continue dealing with this monster?
Brendan was such an adorable, sweet 4-year-old child and his memory and life will be honored forever, whether his body is found or not. Please checkout the website dedicated to him (link is over at Eric's site). Be prepared, and have extra tissue on hand because you'll need it.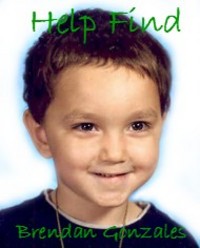 WordPress database error: [Expression #3 of SELECT list is not in GROUP BY clause and contains nonaggregated column 'merri_wrdp1.wp_comments.comment_type' which is not functionally dependent on columns in GROUP BY clause; this is incompatible with sql_mode=only_full_group_by]
SELECT comment_author, comment_author_url, comment_type, MAX(comment_ID) as comment_ID, SUBSTRING_INDEX(comment_content,'strong',2) as trackback_title, SUBSTRING_INDEX(comment_author,' » ',1) as pingback_blog, SUBSTRING_INDEX(comment_author,' » ',-1) as pingback_title FROM wp_comments WHERE (comment_post_ID='163' AND comment_approved = '1') AND (comment_type = 'trackback' OR comment_type = 'pingback') GROUP BY comment_author, comment_author_url ORDER BY comment_ID DESC LIMIT 50