WTW Rachael Ray's "Dirty Minute Meals"
So ya'll. Anyone one who knows me will tell you that I love that thar Rachael Ray of that cooking channel. Well, me and my love of Al Gore's internet (ya'll got that thar joke, right? Right? Damn…it twas just a joke. Sheesh) got togethar and we found out that even li'l ole Rachael has a trashy side.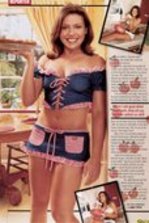 Yes, she did pose in one of them man rags - FHM. But I was talking about how she TALKS on her show. This here lady over here, she calls it "Dirty Minute Meals." That's why that ole Rachael has so many males who sit in the dark watching her show - only to hit the button over to NASCAR when their ole lady walks in the room. Lookie here - this is White (dirty) Trash at its finest, ya'll:
On the Cuisinart… "Just go up and down. Quick quick quick!"

Corn on the cob… "I used to suck on the corn cob. So bad!"

On stuffing burgers… "Tuck this inside. That's gonna be a tasty little surprise!"

On a cucumber… "We're gonna put a little of him in."

On sharpening knives… "I make my baby brother do it for me, but he's not always around."

On oiling… "I give it a little rub, though, to get the heat going."

On hot pans… "I want them waiting for me, not the other way around."

On the top of an onion… "I'm gonna whack it off here."

On chopping chard… "And I go right down to the stem."

On beating eggs… "See, you can just get down and dirty with 'em."

On vegetarians… "Somebody in the house just doesn't do meat."

"It's not about 'thicker is better.'"

On pre-washed spinach… "I get so excited about it, I'm stuttering. It's a thirty minute girl's best friend."

On breading chicken… "Try to keep one hand free, one hand clean, so ya got somethin' to work with."

On bread under the broiler… "It's a lotta back and forth, but man when it goes, it GOES!"

On grilled bread… "Transfer these to a plate and get these guys off, too."

On the Santoku knife… "It goes through anything wet like it's butter."

Back from the break… "I'm Rachel Ray, and today, I'm pleasing a crowd."

Intro… "You'll be able to make the whole crew happy in under thirty minutes."

"You need it three times, deal with it once. Right?"

On a lemon… "Oh yeah! Look at those juices flow!"

On the griddle… "On top, this is awesome."

On having friends over early… "And they'd be munchin' that in just a few minutes."

On veal… "I'm gonna nest him in the middle so he gets some action."

On weeknight entertaining… "You may try not to do it too often, but once in a while, it's inevitable."

On bay leaves… "I want a big one."

On variety of meats… "I'm gonna give you a little peek here at what we're playin' with today."

On a fakeout cassoulet… "It's not exactly the same thing, but let me tell you, when you put it in your mouth, you're gonna be just as happy."

On sausage… "I'm just gonna give 'em a little prick."

On whisking… "I think I'm gonna use my stronger hand."

Outro… "My mouth's gonna be really full soon."

"Don't beat it too hard, or too soft."

On plating… "Remember to wipe off your lips there."

On prep time… "Good lord! She wants it faster!"

On salami… "I never met a salami I didn't like, really."
So don't ya'll be afraid to tune into my pal Rachael Ray's show. She has something fer everyone! And talkin' 'bout sumthin' fer everyone, don't fergit to stop on by all my friends at ye ole Trailer Park:
WordPress database error: [Expression #3 of SELECT list is not in GROUP BY clause and contains nonaggregated column 'merri_wrdp1.wp_comments.comment_type' which is not functionally dependent on columns in GROUP BY clause; this is incompatible with sql_mode=only_full_group_by]
SELECT comment_author, comment_author_url, comment_type, MAX(comment_ID) as comment_ID, SUBSTRING_INDEX(comment_content,'strong',2) as trackback_title, SUBSTRING_INDEX(comment_author,' » ',1) as pingback_blog, SUBSTRING_INDEX(comment_author,' » ',-1) as pingback_title FROM wp_comments WHERE (comment_post_ID='201' AND comment_approved = '1') AND (comment_type = 'trackback' OR comment_type = 'pingback') GROUP BY comment_author, comment_author_url ORDER BY comment_ID DESC LIMIT 50