I Love Knives!
One of my readers (thanks, Jackie!), let me know that Rachael has a new signature knife out at Sur la Table. This knife is called "Rachael Ray Gusto Grip Santuko by Füriâ"¢" and here's the details:
Use the knife that Rachael uses on her latest TV shows. Patented "grippy" orange silicone polypropylene handle in an inventive wedge shape helps keep hand from slipping toward the blade when wet - the direction that counts. Enjoy the rocking/sawing motion of a chef's knife and the chopper work of a Santoku. Hollow-edged blade reduces friction for easier slicing. Blade bolster and tang are forged from a single piece of fine German stainless steel. Hand wash.
I was really tempted to throw this one, or her original Füri signature knife on the ole Christmas list. But I do like my Wustof knives. But one can never have too many knives, right? Well, when I looked further, I found that Sur la Table also has the new oval saute pan. Now THAT's something for my list. When I first saw her using it on her show, I absolutely wanted it - there are some things that just don't fit in even my largest circular pan. Here's the details:
Unique oval shape allows two 5-qt. sautés to fit side by side on a standard range. Even-heating anodized aluminum exterior with nonstick interior; glass lid. Handles are oven safe to 400˚F.
If the description doesn't job your memory, here's the picture: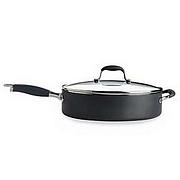 Pretty ain't it?!?
I'm anxious to hear about Rachael's wedding. Word has it, her mom and John (Cusimano - her MAN) planned the entire event since she has been so busy with cook books, magazines, new shows, etc. She said she just has to "show up." She should be getting married sometime in the next couple of weeks in Tuscany. I'm sure there will be more to come!
She has a new cookbook coming out November 1st - "365-No Repeats." I can't wait! I also can't wait to read her new magazine!
Thanks to all of you who stop by and read about Rachael Ray…let me know if there's anything I can add to the site that you're interested in.
WordPress database error: [Expression #3 of SELECT list is not in GROUP BY clause and contains nonaggregated column 'merri_wrdp1.wp_comments.comment_type' which is not functionally dependent on columns in GROUP BY clause; this is incompatible with sql_mode=only_full_group_by]
SELECT comment_author, comment_author_url, comment_type, MAX(comment_ID) as comment_ID, SUBSTRING_INDEX(comment_content,'strong',2) as trackback_title, SUBSTRING_INDEX(comment_author,' » ',1) as pingback_blog, SUBSTRING_INDEX(comment_author,' » ',-1) as pingback_title FROM wp_comments WHERE (comment_post_ID='309' AND comment_approved = '1') AND (comment_type = 'trackback' OR comment_type = 'pingback') GROUP BY comment_author, comment_author_url ORDER BY comment_ID DESC LIMIT 50