A Reason Why There Are Such Things as Jail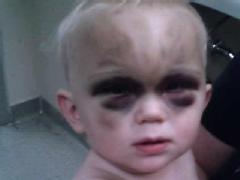 Just look at that image for a minute. First of all, the man beat this child. Then he tried convincing the mother of this child that he "fell off the couch." How could *anyone* do anything like this to such a beautiful child….to ANY child? What could this child POSSIBLY have done?
La Vista police said the injuries were caused by Keith Parker, 28, the live-in boyfriend of Aiden's mother. He was arrested Monday morning on felony child abuse charges. Parker made his first court appearance Thursday, where his bond was set at $250,000.
The baby will be fine, authorities say, this injury the result of multiple skull fractures. The mother of Aiden believed her boyfriend at first, because it didn't look this bad, but the bruising kept developing and after 3 days took the baby to the hospital.
Yanno, Parker may be protected from the general population behind bars, but that doesn't mean he's protected from those behind bars with him. Parker would make a good whipping post…have at him! Let's see how he likes it.
UPDATE: Here's what an evil, vile, sick, disgusting child abuser looks like: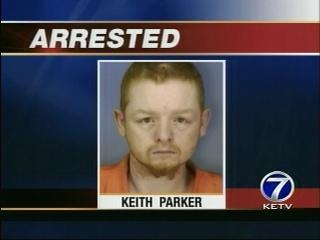 I thank God that Aiden is healing and will be okay…at least on the outside. I pray that he never sees such evil again in his life. As for Parker, I pray that justice will be served. That man should never see the outside of a 6′ hole again, but at the very least, he should never again see the outside of a prison cell.
WordPress database error: [Expression #3 of SELECT list is not in GROUP BY clause and contains nonaggregated column 'merri_wrdp1.wp_comments.comment_type' which is not functionally dependent on columns in GROUP BY clause; this is incompatible with sql_mode=only_full_group_by]
SELECT comment_author, comment_author_url, comment_type, MAX(comment_ID) as comment_ID, SUBSTRING_INDEX(comment_content,'strong',2) as trackback_title, SUBSTRING_INDEX(comment_author,' » ',1) as pingback_blog, SUBSTRING_INDEX(comment_author,' » ',-1) as pingback_title FROM wp_comments WHERE (comment_post_ID='699' AND comment_approved = '1') AND (comment_type = 'trackback' OR comment_type = 'pingback') GROUP BY comment_author, comment_author_url ORDER BY comment_ID DESC LIMIT 50